2017 | OriginalPaper | Buchkapitel
3. Mangroves in India and Climate Change: An Overview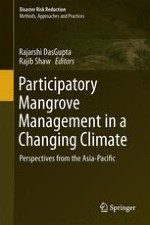 Erstes Kapitel lesen
Autor: Kathiresan Kandasamy
Verlag: Springer Japan
Abstract
In India, mangroves occupy an area of 4740 km
2
, accounting for about 3 % of the world's mangrove cover. Sundarbans in India and Bangladesh is the largest single block of mangrove forest in the world, and is the only mangrove forest in the world, colonized with Royal Bengal tigers and other globally threatened animal species. Indian mangroves in Bhitarkanika of Odisha are the one among the two mangrove genetic paradises of the world. India's mangroves can be broadly categorized into deltaic, backwater-estuarine, and insular types. About 58 % of the mangroves occur on the east coast along the Bay of Bengal, 29 % on the west coast bordering the Arabian Sea, and 13 % on Andaman and Nicobar Islands. Most spectacular mangroves are found in Sundarbans in West Bengal (44 %), followed by Gujarat (23 %) and Andaman and Nicobar Islands (13 %). The mangrove forests are very dense in 1472 km
2
(31 %), moderate in 1391 km
2
(29 %), and sparse in 1877 km
2
(40 %). Mangrove forest ecosystems in India support diverse groups of organisms comprising about 4000 floral and faunal species, and mangrove forests harbor 39 mangrove plant species that is 56 % of world's mangrove species. Two globally threatened species, namely,
Heritiera fomes
and
Sonneratia griffithii
, are found to be present in India, in addition to
Rhizophora x annamalayana
Kathir., which is endemic to the Pichavaram mangrove in southeast India. In the last two decades, mangroves in India have been well maintained without any drastic changes, as a result of effective conservation measures being implemented in mangrove areas along the country, in spite of growing threats by man and natural calamities. What is required for the future of mangroves in India is restoration of ecosystem services of the mangroves with strong involvement of community participation to mitigate the impacts of climate change.