2015 | OriginalPaper | Buchkapitel
Mangroves of the Red Sea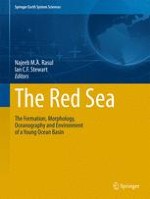 Erstes Kapitel lesen
Autor: Ahmed S. M. Khalil
Verlag: Springer Berlin Heidelberg
Abstract
Mangroves of the Red Sea have particular biogeographic and ecological significance, as they constitute the boundary for mangrove distribution in the Indo-Pacific region.
Avicennia marina
is the most abundant mangrove species in the Red Sea region.
Rhizhophora mucronata
stands coexist in a few areas. Both species show various growth performances in the region, depending on local environmental conditions. Previous studies reported the earlier existence of
Ceriops tagal
and
Bruguiera gymnorizha
in several areas of the region; however, recent reports indicate that the existence of these species is currently confined to Djibouti and Eritrea.The vast majority of the mangrove stands in the region are mono-specific, consisting of
A. marina,
which typically forms narrow forests along the shoreline and on nearshore and offshore islands, or fringing tidal creeks and channels. Although they are mostly narrow, such forests vary considerably in extent from a few tens of meters to several kilometers along the shore. Many mangrove areas in the region were reported to be degraded at various rates. Unless intervention through restoration and conservation takes place, degradation of mangroves will possibly have adverse impacts on fisheries, coastal stability, and on adjacent habitats connected to mangroves such as coral reefs and sea-grass beds. The main obstacles to conservation efforts in the region include the lack of institutional and human capacities, inadequacy in legislation and weak compliance, gaps in information and data, poor awareness, and rapid coastal development. This chapter presents a brief overview of the available information on mangroves of the Red Sea with emphasis on their distribution, characteristics, significance, and status. The chapter also describes and discusses mangrove conservation efforts and challenges facing them in the region.