2017 | OriginalPaper | Buchkapitel
Mapping Religiously, or Religiously Minding the Map?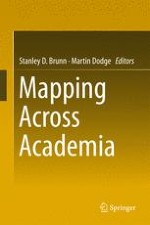 Erstes Kapitel lesen
Autoren: Lillian I. Larsen, with Cartography by Steve Benzek
Verlag: Springer Netherlands
Abstract
This essay explores the programmatic pedagogy that has long linked religion and maps. Through comparative juxtaposition of contemporary surfaces, it underscores the degree to which disciplinary constructs continue to shape cartographic representation of religiously defined space. It then examines this contemporary phenomenon in light of the historical role that religion has played in iteratively naming particular geographic landscapes authoritative. Extending the work of Catherine Delano-Smtih on "Maps as Art and Science" (
1990
; Cf.
Maps in Bibles
, 1991), it demonstrates the particular merits of melding "change" with "tradition" in a manner that troubles common cartographic nomenclature. Following Harley (in
Cartographica
26:1–25,
1989
), it simultaneously affirms the importance of deconstructing authoritative surfaces with more mindful utilization of contemporary cartographic tools. As religiously defined landscapes are here 're-drawn' in ways that combine critical historical engagement with sophisticated digital artistry, both the most malleable, and the most stable maps are rendered less emphatic. Re-shaped and re-purposed, these surfaces no longer serve as static harbingers of hegemonic 'truth'—or malleable registers of cultural idiosyncrasy—but symbolically supple interfaces that temper certainty. Absent an ideological agenda aimed at culturally affirming inherent authority, they effectively demonstrate the usefulness of inverting established pedagogies. As the traditional tactics that have dictated 'mapping religiously' are re-deployed, they serve as tools for 'religiously minding the map.' Persuasive influence, however, is contingent. Even as 'the authority inherent in all mapped surfaces' is re-defined, effective re-configuration remains grounded in shared cartographic assumptions.