2014 | OriginalPaper | Buchkapitel
Mapping the Deformation of Shuping Landslide Using DInSAR and Offset Tracking Methods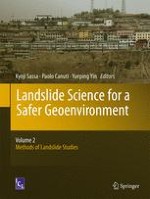 Erstes Kapitel lesen
Autoren: Jinghui Fan, Hao Lin, Ye Xia, Hongli Zhao, Xiaofang Guo, Man Li
Abstract
Shuping landslide, belonging to Zigui county, Hubei province, is located on a north-inclined slope at the south bank of Yangtze River and about 50 km away from the Three Gorges Dam. The landslide occupies less than 1 km2 and is covered by densely vegetations. Since the first impoundment of the Three Gorges Reservoir ended on June 15, 2003, the landslide has suffered obvious deformation. The maximum value of Shuping landslide in special month is up to several decimetres.
Concerning Shuping landslide displacement mapping, both DInSAR and offset tracking methods have been limited by the multi-metric spatial resolution of the previous generation of space-borne SAR sensors (e.g. ENVISAT ASAR or PALSAR).
In this paper we use 4 TerraSAR-X Spotlight images with submetric spatial resolution and apply both DInSAR and offset tracking method to map the deformation field of Shuping landslide. Three images acquired in January, 2012 are processed with DInSAR method. And the other one acquired in January, 2013. As for the offset tracking method, 1 pair with time baseline near 1 year is processed.
After the deformation field mapping, two deformation cones are identified by both DInSAR and offset tracking methods. It is shown by our work that high spatial resolution SAR data can provide an unprecedented level of high density and high precision measurement for recognizing the landslide surface deformation. Simultaneously, the measurement has the guiding function for selecting point location to GPS and leveling.