01.04.2015 | LIFE CYCLE SUSTAINABILITY ASSESSMENT | Ausgabe 4/2015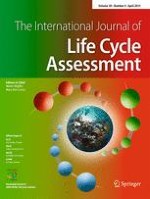 Mapping the scientific research on life cycle assessment: a bibliometric analysis
Zeitschrift:
Autoren:

Qian Hou, Guozhu Mao, Lin Zhao, Huibin Du, Jian Zuo
Abstract
Purpose
A bibliometric analysis of life cycle assessment (LCA)-related research literature is reported in this study. Based on databases of Science Citation Index (SCI), Social Science Citation Index (SSCI), Conference Proceedings Citation Index—Science (CPCI-S), and Conference Proceedings Citation Index—Social Science & Humanities (CPCI-SSH), this study aims to evaluate the research trends of LCA-related research literature from 1998 to 2013 by using bibliometric techniques.
Methods
The documents were analyzed according to their type, language(s), subject(s), journal(s), citation analysis of articles, authors' address information, and keyword distribution, etc. H-index and impact factor (IF) were applied to characterize the LCA publications. Furthermore, co-word analysis and social network analysis (SNA) were employed to evaluate the interactions in this research field. The findings showed that the pace of publishing in this field increased exponentially over past 16 years.
Results and discussion
A total of 6616 records were obtained from the four databases. Journal articles are the most frequently used document type representing 74.33 % (4918) of the records, and English is the dominant language with 5914 records (97.53 %). The most common subject category is environmental sciences, and the most productive journal is
International Journal of Life Cycle Assessment
. The USA, focusing on "energy," "industrial ecology," and "greenhouse gas emissions," is the most productive country in the research field of LCA. Technology University of Denmark is the most productive institute all over the world over the past 16 years. According to the ranking of keywords, "greenhouse gas," "energy", and "biofuel" are the hotspots of LCA research. The main purpose of LCA is sustainability assessment whereas climate change is one of the most outstanding environmental issues.
Conclusions
By identifying global hotspots in the LCA research, this study provides a useful reference to researchers for the future research directions.