01.12.2009 | Ausgabe 4/2009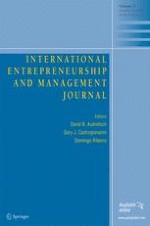 Mapping the successful succession process in family firms: evidence from Greece
Autoren:

Vassilios D. Pyromalis, George S. Vozikis
Abstract
The succession process in family firms has by far been determined to be the most critical phase in the family business life-cycle (e.g. Morris et al.
Journal of Business Venturing
18:513–531,
1997
; Wang et al.
2000
) and characterized as the period in which most family firm fatalities occur (Handler and Kram
Family Business Review
1:361–381,
1988
). This paper is an empirical study on Greek family firms and seeks to identify the critical success factors that have a major impact on the outcome of a generational transition in the leadership of the family firm. Based on an integrated conceptual framework proposed by Pyromalis et al. (
2006
), we test the impact of five factors, namely the incumbent's propensity to step aside, the successor's willingness to take over, the positive family relations and communication, succession planning, and the successor's appropriateness and preparation on both the satisfaction of the stakeholders with the succession process
and
the effectiveness of the succession process per se. The results provide a useful insight and confirm the importance of the aforementioned factors in the succession process by mapping a safe passage through the family business succession process, and by contributing not only to the overall family business literature but also generating strong arguments in favor of the family firm as an integral entrepreneurial element for a region's sustainable economic development.