2013 | OriginalPaper | Buchkapitel
Markov Processes and Their Applications to Partial Differential Equations: Kuznetsov's Contributions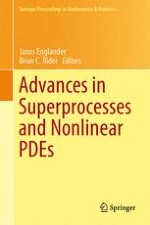 Autor: E. B. Dynkin
Verlag: Springer US
Abstract
We describe some directions of research in probability theory and related problems of analysis to which S. E. Kuznetsov has made fundamental contributions.A Markov process (understood as a random path
X
t
, 0 ≤
t
<
∞
such that past before
t
and future after
t
are independent given
X
t
) is determined by a probability measure
P
on a path space. This measure can be constructed starting from a transition function and probability distribution of
X
0
. For a number of applications, it is also important to consider a path in both, forward and backward directions which leads to a concept of dual processes. In 1973, Kuznetsov constructed, as a substitute for such a pair of processes, a single random process (
X
t
, ℙ) determined on a random time interval (α, β). The corresponding forward and backward transition functions define a dual pair of processes. A σ-finite measure ℙ became, under the name "Kuznetsov measure," an important tool for research on Markov processes and their applications.
In 1980, Kuznetsov proved that every Markov process in a Borel state space has a transition function (a problem that was open for many years). In 1992, he used this result to obtain simple necessary and sufficient conditions for existence of a unique decomposition of excessive functions into extreme elements—a significant extension of a classical result on positive superharmonic functions.
Intimate relations between the Brownian motion and differential equations involving the Laplacian Δ were known for a long time. Applications of probabilistic tools to classical potential theory and to study of linear PDEs are more recent. Even more recent is application of such tools to nonlinear PDEs. In a series of publications, starting from 1994, Dynkin and Kuznetsov investigated a class of semilinear elliptic equations by using super-Brownian motion and more general measure-valued Markov processes called superdiffusions. The main directions of this work were (a) description of removable singularities of solutions and (b) characterization of all positive solutions. One of the principal tools for solving the second problem was the fine trace of a solution on the boundary invented by Kuznetsov.
The same class of semilinear equations was the subject of research by Le Gall who applied a path-valued process Brownian snake instead of the super-Brownian motion. A slightly more general class of equations was studied by analysts including H. Brezis, M. Marcus and L. Veron. In the opinion of Brezis: "it is amazing how useful for PDEs are the new ideas coming from probability. This is an area where the interaction of probability and PDEs is most fruitful and exiting".