01.12.2008 | Ausgabe 12/2008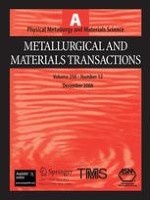 Master Sintering Curve for Densification Derived from a Constitutive Equation with Consideration of Grain Growth: Application to Tungsten Heavy Alloys
Zeitschrift:
Autoren:

S.J. Park, S.H. Chung, J.M. Martín, John L. Johnson, Randall M. German
Wichtige Hinweise
Manuscript submitted February 4, 2008.
Abstract
A new formulation of the master sintering curve (MSC) is developed to include the effects of grain growth on densification during both solid state and liquid phase sintering. Densification is described by a continuum mechanics model in which the grain size appears as a material parameter. The grain size is calculated along a given heating schedule using a grain growth law, rather than assuming its dependence on the density. The final equation contains two apparent activation energies, one for densification kinetics and another for grain growth kinetics. This equation is used to analyze densification and grain size data for W-Ni-Fe heavy alloys with W contents ranging from 83 to 93 wt pct during both solid state and liquid phase sintering. The calculated apparent activation energies are compared with previous values and are used to analyze transport mechanisms for densification and grain growth.