2011 | OriginalPaper | Buchkapitel
15. Material–Environment Interactions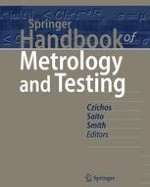 Erstes Kapitel lesen
Autoren: Dr. Franz-Georg Simon, Oliver Jann, Prof. Ulf Wickström, Anja Geburtig, Peter Trubiroha, Volker Wachtendorf
Verlag: Springer Berlin Heidelberg
Abstract
There is no usage of materials without interaction with the environment. Material–environment interactions are relevant for all types of materials, be they of inorganic or organic in origin. Interactions with the environment can cause damage to materials but also might lead to an improvement of materials properties (e.g. oxidative passivation of aluminium or patina formation on copper surfaces). Interactions with the environment might also occur prior to the usage of materials, i.e. in the production phase. For example, before steel can be used for manufacturing of metal products, iron ore has to be extracted and processed.
The impact of the environment on the processes of the
materials cycle
(Fig. 1.15) will be discussed in Sect.
15.1.1
of this chapter. An important material–environment interaction, especially for inorganic materials, is corrosion, which has already been addressed in Chap. 12. Also the biological impact on organic and inorganic materials can be manifold and are presented in Chap. 14. Environmental mechanisms that impair the functioning of organic polymeric materials – such as weathering, ultraviolet (UV) radiation, moisture, temperature and high-pH environments – are the topics of Sect.
15.1.2
. The influence of materials on the indoor climate and measurement methods to characterize emissions from materials are treated in Sect.
15.2
. Fire exhibits a drastic impact on materials; methods to characterize the flammability and fire behavior of materials are discussed in Sect.
15.3
.