01.08.2014 | Ausgabe 8/2014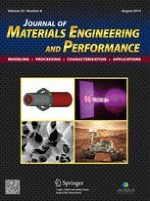 Material Parameters for Creep Rupture of Austenitic Stainless Steel Foils
Zeitschrift:
Autoren:

H. Osman, A. Borhana, M. N. Tamin
Abstract
Creep rupture properties of austenitic stainless steel foil, 347SS, used in compact recuperators have been evaluated at 700 °C in the stress range of 54-221 MPa to establish the baseline behavior for its extended use. Creep curves of the foil show that the primary creep stage is brief and creep life is dominated by tertiary creep deformation with rupture lives in the range of 10-2000 h. Results are compared with properties of bulk specimens tested at 98 and 162 MPa. Thin foil 347SS specimens were found to have higher creep rates and higher rupture ductility than their bulk specimen counterparts. Power law relationship was obtained between the minimum creep rate and the applied stress with stress exponent value,
n
= 5.7. The value of the stress exponent is indicative of the rate-controlling deformation mechanism associated with dislocation creep. Nucleation of voids mainly occurred at second-phase particles (chromium-rich M
23
C
6
carbides) that are present in the metal matrix by decohesion of the particle-matrix interface. The improvement in strength is attributed to the precipitation of fine niobium carbides in the matrix that act as obstacles to the movement of dislocations.