2011 | OriginalPaper | Buchkapitel
3. Materials and Methods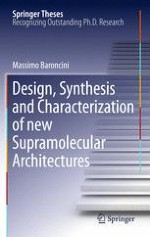 Erstes Kapitel lesen
Autor: Massimo Baroncini
Verlag: Springer Berlin Heidelberg
Abstract
All chemicals were purchased from Aldrich and were used without further purification. Solvents were purchased from Aldrich and purified according to literature procedures. Thin-layer chromatography (TLC) was performed on aluminum sheets coated with silica gel 60F (Merck 5554). The plates were inspected by UV light. Column chromatography was performed on silica gel 60 (Merck 40–60 nm, 230–400 mesh). High-performance liquid chromatography (HPLC) grade MeCN was purchased from Aldrich and degassed by bubbling He. Known amounts of the compounds were dissolved in MeCN (HPLC grade) to afford stock solution of known concentration (0.001 M). The resulting solutions (injected volume 10 μL) were analyzed at ambient temperature by HPLC (flow rate 1.0 mL min
−1
; mobile phase, pump A 0.1% CF
3
CO
2
H in H
2
O, pump B MeCN/0.1% CF
3
CO
2
H in H
2
O/95:5; time (min)/pump A (%) = 0/100, 8/100, 28/0, 42/0, 45/100) by employing a Hypersil BDS C18 column (length 25 cm, inside diameter 5.6 cm) operated by HP 1090 (Hewlett–Packard) connected to thermo surveyor UV–Vis diode array detector. Melting points were determined on an Electrothermal 9200 apparatus and reported uncorrected.
1
H and
13
C spectra were recorded on Varian Mercury 400 (400 and 100 MHz, respectively), using residual solvents as the internal standard. Samples were prepared using deuterated solvents purchased from Cambridge Isotope Laboratories. The chemical shift values were expressed as δ values, and the couplings constants (
J
) are in Hertz. The following abbreviations were used for signal multiplicities: s, singlet; d doublet; t triplet; m multiple; br broad. Electron impact mass spectra (EIMS) were obtained from VG Prospec mass spectrometer.