2019 | OriginalPaper | Buchkapitel
Mathematical Analysis of Adaptive Queue Length-Based Traffic Signal Control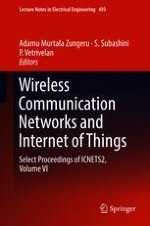 Erstes Kapitel lesen
Autoren: Shaik Khaja Mohiddin, C. Prasanth, Gajendra Singh Rathore, C. Hemanth
Verlag: Springer Singapore
Abstract
Objectives
Traffic signals are pre-timed/fixed cycle in which the duration of green light and red light is fixed irrespective of the number of vehicles at the traffic signal, which causes congestion in most cases. Most of the research done on pre-timed traffic signal focuses on deriving formulas for the better estimation of the delay experienced by vehicles. Proposed method of adaptive traffic signals can be used to minimize the congestion problem occurring at the intersection due to pre-timed traffic signal, thereby minimizing the delay to a greater extent.
Methods/Statistical Analysis
In this paper, the vehicles are considered to arrive based on a Poisson distribution. The probability generating function of queue lengths at the beginning of
k
th and
k
+ 1th cycle is derived. Based on the queue length for each direction, the optimal duration of red and green light is derived.
Findings
In the proposed work, it is showed that the performance of adaptive queue length-based switching is efficient than the pre-timed/fixed traffic signaling. Based on the traffic arrival pattern, the threshold of the red and green light can be set to minimize the delay/congestion.
Application/Improvements
In this proposed work, the congestion problem is minimized by using the adaptive signal switching and the performance of system can be improved in heavy traffic scenario.