05.02.2018 | Ausgabe 2/2018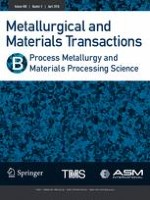 Mathematical Model for Collision–Coalescence Among Inclusions in the Bloom Continuous Caster with M-EMS
Zeitschrift:
Autoren:

Hong Lei, Jimin Jiang, Bin Yang, Yan Zhao, Hongwei Zhang, Weixian Wang, Guiwen Dong
Wichtige Hinweise
Manuscript submitted June 12, 2017.
Abstract
Mathematical simulation is an effective tool to analyze the fluid flow and the inclusion behavior in the bloom continuous caster with mold electromagnetic stirring (M-EMS). The mathematical model is applied to the modeling of magnetic field, flow field, and inclusion field. Due to the introduction of Archimedes force, the collision mechanism and inclusion's slipping velocity should be modified in the inclusion mass and population conservation model. Numerically predicted magnetic field, flow field, and the inclusion spatial distribution conform to the experimental results in the existing literature. Lorentz force plays an important role in the fluid flow, and Archimedes force plays an important role in the inclusion distribution in the continuous caster. Due to Brownian collision, Stokes collision, Archimedes collision, and turbulent collision, the coalescence among inclusions occurs in the bloom continuous caster with M-EMS. Among the four types of collisions, turbulent collision occurs most frequently, followed by Archimedes collision and Stokes collision. The frequency of Brownian collision is several orders of magnitudes smaller and is therefore negligible. The inclusion volume concentration, number density, and characteristic radius exhibit a U-shape in the continuous caster without M-EMS. However, with M-EMS, they exhibit an inverted U-shape.