2018 | OriginalPaper | Buchkapitel
2. Mathematical Modeling in Bioremediation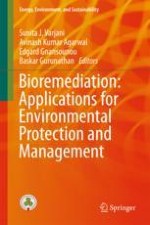 Erstes Kapitel lesen
Autoren: Parthasarthy Vijay, Margavelu Gopinath
Verlag: Springer Singapore
Abstract
Roughly 98% of the available freshwater is represented by the groundwater on the planet. Protecting and re-establishing groundwater quality is of great importance. A major threat to the resources of groundwater is soil and aquifer pollution by hazardous wastes. This pervasive issue represents an important practical and cost-effective challenge because underground environmental pollution is tough to locate and eliminate by conventional extraction and excavation methods. Thus, there is a necessity for a broader investigation of efficient, in situ remediation approaches that uses the benefit of natural phenomena, such as bioremediation and natural attenuation. This chapter gives a prologue to the essential hypothesis and utilization of contaminant transport demonstrating by numerical methods. In the wake of perusing this section, the reader ought to have the capacity to choose a proper numerical model for the circumstance under thought, run the code, and adjust it. The utilization of numerical methods to tackle groundwater contaminant transport issues has turned into a broadly utilized strategy in view of the intensive enthusiasm for groundwater quality and the quick improvement of processing innovation, which has made numerical simulations accessible to hydrogeologists and civil engineers. If suitably applied, numerical models can give answers to the following questions.
What is the relationship between solute concentration and location?

What will be the time taken to reach a target level of solution concentration due to remediation process?

Will a remedial measure reach a targeted concentration (reduced) in a certain time?

How might one recreate the historical data of contamination to discover the relationship between population, time of exposure, and concentration?
The chapter starts with fundamentals of groundwater flow. The concepts of groundwater such as hydraulic head, Darcy's Law, hydraulic conductivity are discussed. Basics of transport processes, such as diffusion, advection that are involved in groundwater contamination, are also discussed. Later, theory of the model equations, assumptions considered, initial and boundary conditions are presented. In the latter sections, analytical and numerical models are discussed in detail with few recent advances in bioremediation modeling. The discussion presented here is considered to be basics yet should provide ample background for the reader concerned with the detailed workings of a numerical model.