2019 | OriginalPaper | Buchkapitel
Mathematical Modeling of the Cerebrospinal Fluid Flow and Its Interactions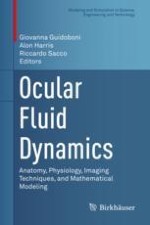 Erstes Kapitel lesen
Autoren: Lorenzo Sala, Fabrizia Salerni, Marcela Szopos
Abstract
The present chapter provides an overview of mathematical models that describe the cerebrospinal fluid and its possible interactions with other biofluids or neighboring tissues. The description of the underlying mechanisms stems from the basic principles of fluid and solid dynamics and it is translated into systems of partial or ordinary differential equations. The current review aims at specifying a complementary view with respect to other revisions in the field by illustrating some selected studies that may constitute a first step in the connection between cerebral and ocular fluid dynamics.
First we present lumped-parameter models with a simplified mathematical structure that allow fast computations of the average values of the unknowns and capture the main behavior of the cerebral flow. The discussion then moves onto distributed models, which produce a three-dimensional representation of cerebrospinal fluid flows in complex geometries that may derive from medical imaging. These models allow the investigation of the fluid flow at fine scales, constituting a highly valuable tool in providing a better understanding of pathophysiology.
We acknowledge that significant efforts have already been made in the attempt to unify mathematics and medicine in the context of brain diseases caused by cerebrospinal fluid abnormalities; nevertheless, we report a pressing demand for innovative mathematical models that may achieve the complete description and simulation of the biophysical connections between the eye and the brain.