01.10.2008 | Ausgabe 9-10/2008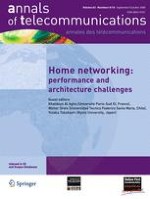 Max–min fair survivable networks
Zeitschrift:
Autoren:

A. Bashllari, D. Nace, E. Gourdin, O. Klopfenstein
Abstract
In this paper, we discuss applications of max–min fairness (MMF) in survivable networks. We focus on two specific applications intended to face failure situations and provide several computational results for each of them. The first application, called
simple robust routing
, generalizes the multipath routing in order to achieve acceptable levels of traffic demand satisfaction in case of single link failures while avoiding classical rerouting procedures. Such a method can be seen as a special case of dedicated resource recovery schemes. The second application is concerned with two shared resource restoration strategies and the corresponding problems of computing the MMF minimum traffic demand satisfaction ratio vectors associated with the set of single link failures. We consider the local rerouting and end-to-end rerouting without stub-release strategies. Computational results for realistic network instances provide a comparison of different routing and rerouting strategies in terms of traffic satisfaction rate. The question of estimating the bandwidth overhead, which can be required by the "simple robust routing scheme" in comparison with the classical restoration schemes, is also studied and answers based on computational results are provided. This work is in continuation of our earlier works on MMF (Nace et al., IEEE Trans Netw 14:1272–1281,
2006
; Nace et al., Comput Oper Res 35:557–573,
2008
).