13.10.2016 | Ausgabe 1/2017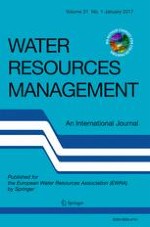 Maximum Design Flow Estimates for Large Basins Using the Local Frequency Analysis (LFA) and the Most Probable Maximum Hydrograph (MPMH) Methods – a Critical Analysis
Zeitschrift:
Autoren:

Daysy Lira Oliveira Cavalcanti, Luisa Fernanda Ribeiro Reis
Wichtige Hinweise
Dimensions used correspond to International System of Units (S.I.)
Abstract
Statistical and deterministic methods have been severely criticized regarding their ability to calculate peak flows. The recently proposed method denominated as Most Probable Maximum Hydrograph (MPMH), applicable to large hydrographic basins, promises to overcome the difficulties faced in the most traditional methods (statistical and deterministic). The method not only uses the peak flow as in the statistical methods, and not requires detail information about the physical and meteorological characteristics of the hydrographic basin as in the deterministic method. The MPMH method takes information from observed hydrographs as base time, maximum flow and its respective volume. Using simple linear regression equations or simple exponential distribution adjusted to mean hydrograph volumes, the MPMH method is used to calculate design hydrograph, based on observed hydrographs volumes and the respective return periods. This paper assesses the applicability of the MPMH method by evaluating the influence of data characteristics as size of data series, removal of outliers and lowest values of the flow series on the peak flow estimates. In this paper it is shown that the MPMH method has great potential for estimation of design flows when compared to traditional methods. Besides that, it is shown that the difficulty in the use the MPMH method lies in deciding the base time (duration of the direct runoff hydrograph) of the standard hydrograph for the basin, which proved to be a decisive factor to estimate the peak flow and hydrograph volumes.