2017 | OriginalPaper | Buchkapitel
23. Meaning and Means of "Sustainability": An Example from the Inuit Settlement Region of Nunatsiavut, Northern Labrador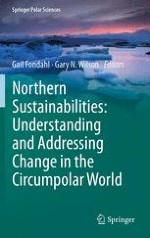 Erstes Kapitel lesen
Autoren: Rudolf Riedlsperger, Christina Goldhar, Tom Sheldon, Trevor Bell
Abstract
A diverse body of literature discusses the importance and application of concepts related to sustainability in the Arctic and Subarctic, with a considerable portion of scholarship being developed outside of Northern regions. However, rather than applying external definitions of sustainability to the Arctic and Subarctic, it is important to recognize Northern Indigenous methodologies and epistemologies, including inherently sustainable worldviews or philosophies and locally grounded tools, processes, or strategies to address sustainability challenges. We present a case study that highlights the relevance of Inuit approaches to sustainability transformation.
SakKijânginnatuk Nunalik
(the Sustainable Communities initiative, or SCI) is located in the autonomous Inuit region of Nunatsiavut, Labrador. The SCI informs best practices and provides guidance for community sustainability in the coastal Subarctic under changing environmental, social, and economic conditions. Its overarching goal is to ensure individual and community well-being in climate adapted communities. We discuss the preliminary successes and challenges of the initiative and conclude with an outlook on how approaches to meet sustainability challenges in the Arctic and Subarctic can contribute to non-Northern sustainability research and concepts.