2013 | OriginalPaper | Buchkapitel
Measurement of CO2 Gasification Rate of Coal Char Under High Pressure and High Temperature Using a Mini Directly-Heated Reactor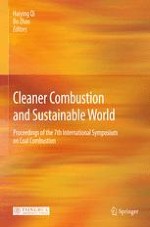 Erstes Kapitel lesen
Autoren: Kouichi Miura, Mitsunori Makino, Eiji Sasaoka, Syunsuke Imai, Ryuichi Ashida
Verlag: Springer Berlin Heidelberg
Abstract
A mini directly-heated reactor (mini-DHR) was constructed to measure the gasification rate handily under high CO
2
pressure of ~ 2 MPa in the presence of other gases, such as CO and H
2
, at
T
= ~ 1,200°C. The mini-DHR was made of U-shaped SUS or Pt tubing of 3 mm I.D. The reactor itself was used as a heating element. An electric current of 75–150 A and a few volts were introduced to the reactor to heat up the reactor up to 900–1,200°C. About 1 mg of char was placed in a platinum mesh basket of 1.0 mm I.D. and 10 mm high. The basket with the char sample was placed just above a thermocouple in the reactor. The conversion of char,
X
, was estimated by weighing the remaining char sample. The
X
vs.
t
relationships obtained under various conditions were analyzed to formulate a gasification rate equation in the presence of both CO
2
and CO for a char prepared from an Australian brown coal.