06.03.2019 | MEASUREMENTS IN INFORMATION TECHNOLOGIES | Ausgabe 11/2019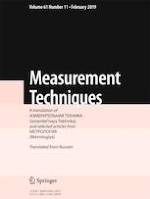 Measurement of Microrelief Parameters Based on the Correlation Method of Image Processing of the Surfaces Under Study
Zeitschrift:
Autoren:

A. D. Abramov, A. I. Nikonov
Wichtige Hinweise
Translated from Izmeritel'naya Tekhnika, No. 11, pp. 36–39, November, 2018
A method is proposed for measuring the parameters of surface microrelief of machine parts by optical-electronic and computer means. The method is based on calculating the parameters of a two-dimensional auto-correlation function constructed from a binary image of the microrelief under study. It is established that the most informative characteristic of the studied microrelief of surfaces of precision parts, which significantly differ from each other with a given roughness recognition probability, is the average amplitude of the variable component of the autocorrelation function. The results of determining the parameters of the studied surface microrelief using quasi-optimal correlation algorithms are presented.