01.06.2015 | Ausgabe 6/2015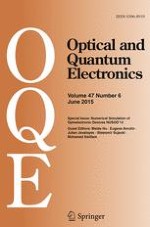 Measurement of minority carrier lifetime in infrared photovoltaic detectors using parallel circuit method
Zeitschrift:
Autoren:

Haoyang Cui, Chaoqun Wang, Jialin Wang, Can Liu, Kaiyun Pi, Xiang Li, Zhong Tang
Abstract
An experimental method for extracting the minority carrier lifetime of a pn-juntion-type HgCdTe infrared photodetector by transient photovoltage technique is reported. The photovoltaic response of the detector is induced by a picosecond pulsed infrared laser irradiation. A small resistance is paralleled with the photodiode to minimize the influence of the junction
RC
constant on the photovoltaic response curve. By fitting the exponential decay phase, the time constant has been obtained which is regarded as the minority carrier lifetime of the photodiode. The carrier lifetime extracted from the experiment is in the range of 0.7–110 ns at 77 K. It is found that the minority carrier lifetime shows an increasing trend with in the increased Cd composition and pixel dimension.