09.11.2017 | Ausgabe 7/2017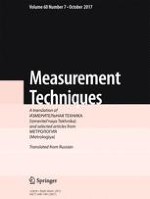 Measurement of the Boltzmann Constant in a Quasispherical Acoustic Resonator
Zeitschrift:
Autoren:

S. M. Osadchii, B. G. Potapov, K. D. Pilipenko, E. G. Aslanyan, A. N. Shchipunov
Wichtige Hinweise
Translated from Izmeritel'naya Tekhnika, No. 7, pp. 8–13, July, 2017.
Frequencies of acoustic and electromagnetic resonances were measured in a quasispherical acoustic resonator at the temperature of the triple point of water. The resonator was filled with helium 4He. Based on the analysis of experimental data, a value for the Boltzmann constant of kB = 1.380651·10–23 J·K–1 with uncertainty of 2.4 ppm was obtained.