12.11.2016 | Ausgabe 1/2018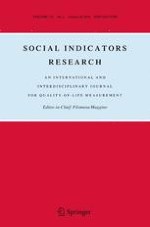 Measuring and Monitoring Poverty and Well-Being: A New Approach for the Synthesis of Multidimensionality
Zeitschrift:
Autoren:

Vincenzo Mauro, Mario Biggeri, Filomena Maggino
Abstract
The aim of this paper is to introduce a new approach for the synthesis and analysis of multidimensional poverty and well-being indicators. Our general perspective is inspired by the theoretical foundations of the capability approach and sustainable human development paradigm. The new synthesis of indicators aims at monitoring outcomes of units of interest. Its defining features include: full sensitiveness, continuity, flexibility in substitution between dimensions, and the straightforward interpretation of the results. All these properties are obtained through a transparent and accountable process that is fully open to public scrutiny and reason (as suggested by Amartya Sen). The main contribution of this approach is that the degree of substitutability between dimensions can be directly linked to the general level of well-being of a person, which addresses the so-called "inescapable arbitrariness" issue discussed by Anand and Sen (Concepts of human development and poverty: a multidimensional perspective. Human Development Papers. UNDP, New York,
1997
). The new synthesis proposed opens up new possibilities for different types of applications, including monitoring and evaluating development programmes.