01.09.2018 | Original Paper | Ausgabe 3/2018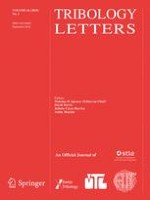 Measuring Evolution of Transfer Film–Substrate Interface Using Low Wear Alumina PTFE
Zeitschrift:
Autoren:

Jiaxin Ye, Wei Sun, Yan Zhang, Xiaojun Liu, Kun Liu
Abstract
Polymeric solid lubricants lay down their own wear debris onto hard metallic counterfaces to form a protective transfer film which reduces friction and wear effectively without lubrication. Adhesive shear strength at the hidden interface between the film and substrate determines the film persistence and correlates with system wear qualitatively. Previous studies showed that an ultralow wear (
k
 ~ 10
− 7
mm
3
/Nm) alumina-PTFE solid lubricant forms an extremely adherent and complete transfer film, and strong chemical bonds between wear debris and counterface perpetuate the film–substrate adhesion very early in the sliding. In this paper, we aimed to test the permanence of such adhesion by removing pre-developed transfer films using sliding rubber contact and measuring the topographical evolution of the interface throughout the course of a standard wear test using the well-studied alumina-PTFE system. The results unexpectedly showed continuous wear of the counterface across the wear track, and counterface wear rate decreased proportionally from 3 × 10
− 7
to 3 × 10
− 8
mm
3
/Nm with increased film area fraction and sliding distance. A proposed
rule-of-mixtures
wear model coincided closely with the experimental results and strongly suggested a coupled mechanism of adhesive and fatigue wear of the counterface. The upper limit of the interfacial counterface fatigue wear rate was predicted to be 3 × 10
− 8
mm
3
/Nm.