Erschienen in: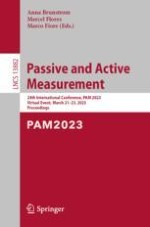 2023 | OriginalPaper | Buchkapitel
Measuring the Performance of iCloud Private Relay
Abstract
Recent developments in Internet protocols and services aim to provide enhanced security and privacy for users' traffic. Apple's iCloud Private Relay is a premier example of this trend, introducing a well-provisioned, multi-hop architecture to protect the privacy of users' traffic while minimizing the traditional drawbacks of additional network hops (e.g., latency). Announced in 2021, the service is currently in the beta stage, offering an easy and cheap privacy-enhancing alternative directly integrated into Apple's operating systems. This seamless integration makes a future massive adoption of the technology very likely, calling for studies on its impact on the Internet. Indeed, the iCloud Private Relay architecture inherently introduces computational and routing overheads, possibly hampering performance. In this work, we study the service from a performance perspective, across a variety of scenarios and locations. We show that iCloud Private Relay not only reduces speed test performance (up to 10x decrease) but also negatively affects page load time and download/upload throughput in different scenarios. Interestingly, we find that the overlay routing introduced by the service may increase performance in some cases. Our results call for further investigations into the effects of a large-scale deployment of similar multi-hop privacy-enhancing architectures. For increasing the impact of our work we contribute our software and measurements to the community.