2018 | OriginalPaper | Buchkapitel
Measuring the Unmeasurable?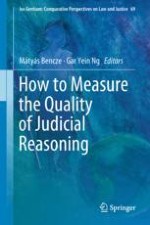 Autoren: Mátyás Bencze, Gar Yein Ng
Abstract
Properly reasoned judgments are important for public trust, dignity of the parties, reflecting independent and impartial dispute resolution and ultimately the legitimacy of the judiciary and courts. At the same time, a politically and socially determined activity such as judicial reasoning will always resist evaluation based on numbers or other exact terms. There will always be special circumstances that must be considered in the evaluation of a judgment or a particular judicial practice. Besides, the constitutional requirement for judicial independence may also prevent policy makers from introducing legal or formal standards regarding the quality of judicial reasoning. It is not a coincidence therefore that that in the majority of legal systems examined focus mostly on efficiency issues when it comes to objective evaluation of the performance of the judicial system. As for evaluation and improvement of reasoning quality only certain "soft methods" can be appropriate. These kind of methods do not violate traditional understanding of judicial independence and it can be rightly assumed that members of the judiciary are professional enough to be sensitive to the results of softer quality assessment. At the same time, quality assessment cannot be separated from the institutional and social background of the assessed judicial activity.