01.02.2020 | ORIGINAL PAPER | Ausgabe 2/2020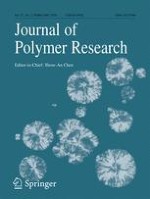 Mechanical and thermal properties of hyperbranched poly(ε-caprolactone) modified graphene/epoxy composites
Zeitschrift:
Autoren:

Lingran Hou, Jian Gao, Hong Ruan, Xu Xu, Shaorong Lu
Wichtige Hinweise
Publisher's note
Springer Nature remains neutral with regard to jurisdictional claims in published maps and institutional affiliations.
Abstract
Graphene nanosheets (GNs) often results in incompatibility with the hydrophobic polymer matrix, and the tendency to form aggregates during processing. Herein, hyperbranched polycaprolactone modified GNs (PGNs) was obtained using 3,4,9,10-perylenetetracarboxylic acid anhydride (PTCDA)reacted with GNs and caprolactone. Firstly, π-π stacking interactions between GNs and perylenebisimide derivatives (PBI), and then in-situ polymerization of ε-caprolactone. The structure and characteristic of PGNs were investigated by infrared spectroscopy, wide angle X-ray diffractometry, thermogravimetric analysis and ultraviolet spectrum. PGNs was added into epoxy matrix at different contents to improve the mechanical and thermal properties of epoxy. At 1.0 wt.% PGNs content, the impact strength and tensile strength of PGNs/epoxy composites were 43.41 kJ/m2 and 91.60 MPa. Compared with those of pure epoxy, these value increased by148% and 87%, respectively, as well as the Tg increased by about 20 °C.