01.04.2014 | Ausgabe 2/2014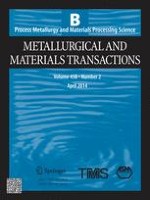 Mechanical and Thermal Properties of Pulsed Electric Current Sintered (PECS) Cu-Diamond Compacts
Zeitschrift:
Autoren:

Riina Ritasalo, Ulla Kanerva, Yanling Ge, Simo-Pekka Hannula
Wichtige Hinweise
Manuscript submitted January 29, 2013.
Abstract
In this work, dispersion strengthening of copper by diamonds is explored. In particular, the influence of 50- and 250-nm diamonds at contents of 3 and 6 vol. pct on the mechanical and thermal properties of pulsed electric current sintered (PECS) Cu composites is studied. The composite powders were prepared by mechanical alloying in argon atmosphere using a high-energy vibratory ball mill. The PECS compacts prepared had high density (>97 pct of T.D.) with quite evenly distributed diamonds. The effectiveness of dispersoids in increasing the microhardness was more pronounced at a smaller particle size and larger volume fraction, explained by Hall–Petch and Orowan strengthening models. The microhardness of Cu with 6 and 3 vol. pct nanodiamonds and pure sm-Cu (submicron-sized Cu) was 1.77, 1.46, and 1.02 GPa, respectively. In annealing experiments at 623 K to 873 K (350 °C to 600 °C), the composites with 6 vol. pct dispersoids retained their hardness better than those with less dispersoids or sm-Cu. The coefficient of thermal expansion was lowered when diamonds were added, being the lowest at about 14 × 10−6 K−1 between 473 K and 573 K (200 °C and 300 °C). Good bonding between the copper and diamond was qualitatively demonstrated by nanoindentation. In conclusion, high-quality Cu-diamond composites can be produced by PECS with improved strength and better thermal stability than for sm-Cu.