2018 | Supplement | Buchkapitel
Mechanical Performance of Flax Nonwoven-Calcium Aluminate Cement Composites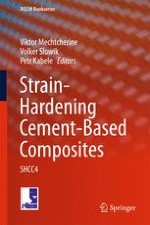 Erstes Kapitel lesen
Autoren: Josep Claramunt, Lucia Fernandez-Carrasco, Mònica Ardanuy
Verlag: Springer Netherlands
Abstract
The incorporation textile fabric reinforcements made of vegetable fibers on fragile cement based matrix can lead to new sustainable construction materials with high strength under flexural and tension forces. However, one of the main problems of the cement composites reinforced with vegetable fibers is their low durability to accelerated aging, mainly due to the presence of calcium hydroxide (Portlandite) on the cement Portland matrix. The degradation of the fibers in this matrix is mainly due to its high alkalinity and the presence of calcium cation, which catalyzes the breakage of cellulose polymer chains. Less studied is the use of other cement based matrix free of Portlandite, like calcium aluminate based cements.
In this work the mechanical behavior of calcium aluminate cement composites reinforced with flax's nonwoven fabrics as textile reinforcement is experimentally evaluated. In addition to the use of this matrix, various treatments are performed on the fabrics in order to making them more stable with respect to the humidity changes and less sensitive to the matrix composition. The effect of the treatment of the nonwovens on the mechanical performance and durability of the composites is also evaluated.
It was found that the calcium aluminate cement matrix is effective for mitigating the degradation of the fibers after accelerated aging. No differences were found between the treatments performed on the nonwoven fabrics on the mechanical performance and durability.