20.08.2018 | Ausgabe 3-4/2018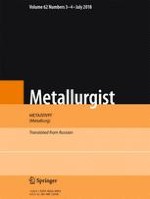 Mechanical Properties and Corrosion Behavior of Bridge Weathering Steels Containing 3.5% Ni
Zeitschrift:
Autoren:

Gao Xinliang, Xiao Yao, Fu Guiqin, Xu Dong, Zhu Miaoyong
Wichtige Hinweise
Translated from Metallurg, No. 3, pp. 40–46, March, 2018.
Two types of steel specimens were prepared containing 3.5% Ni in order to study the mechanical and corrosion properties of bridge steels in a marine atmosphere. Corrosion depth was evaluated by measuring weight loss after accelerated corrosion tests by alternating cycles of immersion and drying. Steel microstructure, and corrosion layer characteristics of bridge steels with different Mn content in different stages of corrosion were studied by using methods of light, transmission, and scanning electron microscopy, and also Raman spectroscopy. Results show that the microstructure of the bridge weathering steels consists of quasi-polygonal ferrite, acicular ferrite and granular bainite. Strength and corrosion resistance are improved with an increase in Mn content. The distribution of Ni and Mn is uniform within corrosion product layers, although there is an increase in Cu content within cracks and pores of the corrosion product layer. Corrosion products mainly consist of α-FeOOH, γ-FeOOH, and Fe3O4, and their content through the corrosion layer differs insignificantly.