15.10.2018 | Ausgabe 6/2018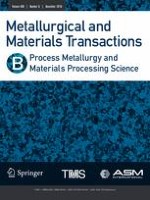 Mechanical Properties, Microstructural Evolution, and the Effect of Friction on the Plastic Flow of the AISI 321 Austenitic Stainless Steel Tube During Cold Pilgering: An Experimental and Simulation Analysis
Zeitschrift:
Autoren:

Mohamad Hosein Musazadeh, Reza Vafaei, Ehsan Mohammad Sharifi, Khosro Farmanesh
Wichtige Hinweise
Manuscript submitted July 11, 2017.
Abstract
The mechanical properties, microstructural evolution, and the effect of friction on the plastic flow of the AISI 321 austenitic stainless steel (ASS) tube were investigated during the cold pilger process. The elastic–plastic behavior of as-received tube was simulated by the Johnson-cook model. The model parameters were obtained by the compression and tensile tests. The mechanical properties of the material were examined by the tensile and microhardness tests. Based on the ring compression test results, three different situations for friction conditions were considered. The stress and strain states at these conditions were examined for the outer and inner surfaces of the tube. Numerical evaluation of plastic shearing due to the cold pilgering of the AISI321 tube was performed. The X-ray diffraction, ferrite scope tests, and optical microscope were also used for the microstructure evaluation and verification of the simulation results, respectively. The Latham-Cockcraft damage was calculated for different conditions by introducing the new subroutine, showing that it was strongly dependent on the friction conditions and the shear strain,
ε
zr
, respectively. It was shown that the friction coefficient of 0.3 resulted in the minimum damage of the tube and the different friction conditions between the two surfaces of the tube enhanced the damage function. Also, the strain induced ά-martensite increased the work-hardening capacity and affected the ductility of the tube.