24.04.2020 | Ausgabe 5/2020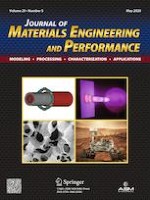 Mechanical Properties of Cu-B/Diamond Composites Prepared by Gas Pressure Infiltration
Zeitschrift:
Autoren:

Guangzhu Bai, Yongjian Zhang, Jingjie Dai, Xitao Wang, Hailong Zhang
Wichtige Hinweise
Publisher's Note
Springer Nature remains neutral with regard to jurisdictional claims in published maps and institutional affiliations.
Abstract
Diamond particles reinforced boron-alloyed Cu matrix (Cu-
x
B/diamond,
x 
= 0.1, 0.2, 0.3, 0.4, 0.5, and 1.0 wt.%) composites were prepared by gas pressure infiltration. The size of the diamond particles was ~ 230 μm and the diamond volume fraction in the composites was ~ 66%. The interfacial carbide evolution plays an important role in improving the interfacial bonding and enhancing the mechanical properties of the Cu-B/diamond composites. The tensile, compressive and bending strengths firstly increase and then decrease with increasing boron content, giving a maximum tensile strength of 204 MPa, a maximum compressive strength of 608 MPa, and a maximum bending strength of 513 MPa at 0.5 wt.% B addition. The monotonic uniaxial tensile stress–strain curves of the Cu-B/diamond composites were predicted by using the Mori–Tanaka, generalized self-consistent, and Torquato identical hard spheres approximation models. The results suggest that alloying B to Cu matrix is an effective route to strengthening Cu/diamond composites.