01.10.2019 | STRUCTURE, PHASE TRANSFORMATIONS, AND DIFFUSION | Ausgabe 10/2019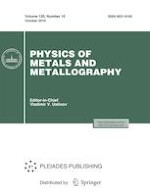 Mechanical Properties of Tube Steel after Full Hardening with Austenite Stabilization
Zeitschrift:
Autoren:

A. N. Makovetsky, D. A. Mirzaev, L. I. Yusupova, A. O. Krasnotalov, A. A. Mirzoev, S. A. Sozykin
Wichtige Hinweise
Translated by E. Chernokozhin
Abstract
The stabilization mechanism of residual austenite in high-alloyed steel with 13% chromium content upon quenching partitioning treatment is studied in this work. It is established that the mechanical properties after such thermal treatment are caused by the opposite stabilization and tempering effects and largely depend on the position of the cooling stop temperature relative to the martensitic point, which determines the amount of both stabilized austenite and martensite tempered at the same temperature.