2011 | OriginalPaper | Buchkapitel
7. Mechanical Properties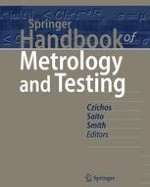 Erstes Kapitel lesen
Autoren: Ph.D. Sheldon M. Wiederhorn, Dr. Richard J. Fields, Samuel Low, Ph.D. Gun-Woong Bahng, Alois Wehrstedt, Junhee Hahn, Prof. Yo Tomota, Dr. Takashi Miyata, Dr. Haiqing Lin, Benny D. Freeman, Dr. Shuji Aihara, Prof. Yukito Hagihara, Tetsuya Tagawa
Verlag: Springer Berlin Heidelberg
Abstract
Materials used in engineering applications as structural components are subject to
loads
, defined by the application purpose. The mechanical properties of materials characterize the
response
of a material to loading.
The mechanical loading action on materials in engineering applications may be static or dynamic and can basically be categorized as tension, compression, bending, shear, and torsion. In addition, thermomechanical loading effects can occur (Chap. 8). There may also be
gas loads
from the environment, leading to gas/materials interactions (Chap. 6) and to
transport phenomena
such as permeation and diffusion.
The mechanical loading action and the corresponding response of materials can be illustrated by the well-known
stress–strain curve
(for definition see Sect.
7.1.2
). Its different regimes and characteristic data points characterize the mechanical behavior of materials treated in this chapter in terms of
elasticity
(Sect.
7.1
),
plasticity
(Sect.
7.2
),
hardness
(Sect.
7.3
),
strength
(Sect.
7.4
), and
fracture
(Sect.
7.5
). Methods for the determination of permeation and diffusion are compiled in Sect.
7.6
.