2015 | OriginalPaper | Buchkapitel
Mechanical System Lifetime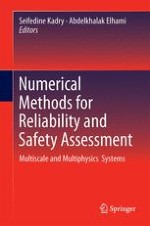 Autoren: Raed Kouta, Sophie Collong, Daniel Play
Abstract
We present, in three parts, the approaches for the random loading analysis in order to complete methods of lifetime calculation.
First part is about the analysis methods. Second part considers modeling of random loadings. A loading, or the combination of several loadings, is known as the leading cause of the dwindling of the mechanical component strength. Third part will deal with the methods taking into account the consequences of a random loading on lifetime of a mechanical component.
The motivations of the present document are based on the observation that operating too many simplifications on a random loading lost much of its content and, therefore, may lose the right information from the actual conditions of use. The analysis of a random loading occurs in several ways and in several approaches, with the aim of later evaluate the uncertain nature of the lifetime of a mechanical component.
Statistical analysis and frequency analysis are two complementary approaches. Statistical analyses have the advantage of leading to probabilistic models (Demoulin B (1990a) Processus aléatoires [R 210]. Base documentaire « Mesures. Généralités ». (*)) provide opportunities for modeling the natural dispersion of studied loadings and their consequences (cracking, fatigue, damage, lifetime, etc.). The disadvantage of these statistical analyses is that they ignore the history of events.
On the other hand, the frequency analyses try to remedy this drawback, using connections between, firstly, the frequencies contained in the loading under consideration and, secondly, whether the measured average amplitudes (studied with the Fourier transform, FT) or their dispersions (studied with the power spectral density, PSD) (Kunt M (1981) Traitement numérique des signaux. Éditions Dunod; Demoulin B (1990b) Fonctions aléatoires [R 220]. Base documentaire « Mesures. Généralités ». (*)). The disadvantage of frequency analyses is the need to issue a lot of assumptions and simplifications for use in models of lifetime calculation (e.g., limited to a system with one degree of freedom using probabilistic models simplified for the envelope of the loading).
A combination of the two analyses is possible and allows a good fit between the two approaches. This combination requires a visual interpretation of the appearance frequency. Thus, a random loading is considered a random process to be studied at the level of the amplitude of the signal, its speed, and its acceleration.