01.03.2015 | Ausgabe 3/2015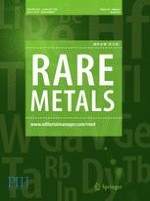 Mechanism of CeMgAl11O19: Tb3+ alkaline fusion with sodium hydroxide
Zeitschrift:
Autoren:

Hu Liu, Shen-Gen Zhang, De-An Pan, Yi-Fan Liu, Bo Liu, Jian-Jun Tian, Alex A. Volinsky
Abstract
Comprehensive CeMgAl
11
O
19
: Tb
3+
(CTMA) disintegration via alkaline fusion was discussed. The rare earth (RE) elements in CTMA were dissolved by HCl completely after alkaline fusion. Relationships between the alkaline fusion temperature and various properties of the compounds were examined by various techniques to elucidate their roles in the expected CTMA disintegration. X-ray diffraction (XRD) analysis indicates the phase transformation sequence. A scientific hypothesis of crystal structure disintegration presents that sodium ions substitute for the europium and barium ions in the mirror plane and magnesium ions in the spinel block successively, resulting in that more oxygen vacancies and interstitial sodium ions appear. The unit cell [
P
63/
mmc
(194)] breaks from the mirror plane. Then it is decomposed into NaAlO
2
, and magnesium, cerium, and terbium ions combine with free OH
−
into MgO, Tb
2
O
3
and CeO
2
; Tb
2
O
3
and CeO
2
change into Ce
0.6
Tb
0.4
O
2−

x
. In the end, the rare earth oxide is recycled easily by the acidolysis. The mechanism provides fundamental basis for recycling of REEs from waste phosphors.