01.12.2013 | Original Paper | Ausgabe 18-20/2013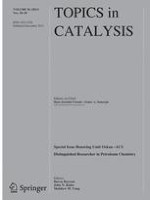 Mechanism of the Reduction by Ammonia of Nitrates Stored onto a Pt–Ba/Al2O3 LNT Catalyst
Zeitschrift:
Autoren:

Laura Righini, Lidia Castoldi, Luca Lietti, Sonia Sauce, Patrick Da Costa, Pio Forzatti
Abstract
The mechanism involved in the formation of N
2
and of N
2
O during the reduction of nitrates stored onto a Pt–Ba/Al
2
O
3
LNT catalyst is investigated using labeled NO and unlabeled ammonia, in the presence and in the absence of NO in the gas phase. The reduction of the stored NO
x
species (labeled nitrates) with NH
3
leads to the selective formation of N
2
. Based on the isotopic distribution, it appears that N
2
formation occurs primarily through the statistical coupling of N-atoms formed by dissociation of NO and NH
3
at metal Pt sites. When the reduction of the stored nitrates is carried out in the presence of NO in the gas phase, NO is preferentially reduced. This implies that the rate determining step of the reduction of nitrates by ammonia is likely associated with the release of stored NO
x
. Negligible amounts of nitrous oxide have been observed during the NH
3
-TPSR with adsorbed nitrates, whereas relevant quantities of N
2
O have been detected at low temperatures (below 180 °C) in the runs performed in the presence of NO in the gas phase. The data converge to indicate that N
2
O formation involves the presence of gaseous NO and this suggests that the formation of nitrous oxide occurs either through the coupling of two adsorbed NO molecules or the recombination of an adsorbed NO molecule with an adsorbed NH
x
species.