2015 | OriginalPaper | Buchkapitel
Medicine and Health Care as a Data Problem: Will Computers Become Better Medical Doctors?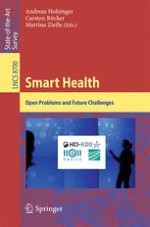 Erstes Kapitel lesen
Autoren: Michael Duerr-Specht, Randy Goebel, Andreas Holzinger
Abstract
Modern medicine and health care in all parts of our world are facing formidable challenges: exploding costs, finite resources, aging population as well as deluge of big complex, high-dimensional data sets produced by modern biomedical science, which exceeds the absorptive capacity of human minds. Consequently, the question arises about whether and to what extent the advances of machine intelligence and computational power may be utilized to mitigate the consequences. After prevailing over humans in chess and popular game shows, it is postulated that the biomedical field will be the next domain in which smart computing systems will outperform their human counterparts. In this overview we examine this hypothesis by comparing data formats, data access and heuristic methods used by both humans and computer systems in the medical decision making process. We conclude that the medical reasoning process can be significantly enhanced using emerging smart computing technologies and so-called computational intelligence. However, as humans have access to a larger spectrum of data of higher complexity and continue to perform essential components of the reasoning process more efficiently, it would be unwise to sacrifice the whole human practice of medicine to the digital world; hence a major goal is to mutually exploit the best of the two worlds: We need computational intelligence to deal with big complex data, but we nevertheless – and more than ever before – need human intelligence to interpret abstracted data and information and creatively make decisions.