27.07.2021 | Original Research Article | Ausgabe 10/2021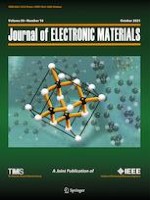 Mercurous Bromide (Hg2Br2) Acousto-Optic Tunable Filters (AOTFs) for the Long Wavelength Infrared (LWIR) Region
Zeitschrift:
Autoren:

Priyanthi M. Amarasinghe, Joo-Soo Kim, Sudhir Trivedi, Feng Jin, Jolanta Soos, Mark Diestler, Syed B. Qadri, Janet l. Jensen, James Jensen, Neelam Gupta
Wichtige Hinweise
Publisher's Note
Springer Nature remains neutral with regard to jurisdictional claims in published maps and institutional affiliations.
Abstract
This paper describes the development of acousto-optic tunable filter (AOTF) devices that are fabricated using in-house grown, high-quality single crystals of mercurous bromide (Hg2Br2). The Hg2Br2 crystals were grown using physical vapor transport (PVT). The quality of the Hg2Br2 single crystals are determined using high-resolution x-ray diffraction (HRXRD). The full width at half maximum (FWHM) of the (220) reflection was found to be 0.029 degrees, which is a significant improvement in the growth of Hg2Br2 bulk single crystals. The diffraction efficiencies of the fabricated AOTF device in the long wavelength infrared (LWIR) found to be 26% which is the highest reported. The device was tested for point detection and for imaging capabilities in the LWIR range. The study shows promising results using Hg2Br2 in LWIR AOTF-based technologies.
Graphic Abstract
×