01.04.2013 | Ausgabe 1/2013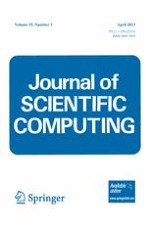 Meshfree Particle Methods in the Framework of Boundary Element Methods for the Helmholtz Equation
Zeitschrift:
Autoren:

Christopher Davis, June G. Kim, Hae-Soo Oh, Min Hyung Cho
Wichtige Hinweise
H.S. Oh was supported by NSF grant DMS-10-16060. M.H. Cho was supported by US Army Office of Research W911NF-11-1-0364.
Abstract
In this paper, we study electromagnetic wave scattering from periodic structures and eigenvalue analysis of the Helmholtz equation. Boundary element method (BEM) is an effective tool to deal with Helmholtz problems on bounded as well as unbounded domains. Recently, Oh et al. (Comput. Mech. 48:27–45,
2011
) developed reproducing polynomial boundary particle methods (RPBPM) that can handle effectively boundary integral equations in the framework of the collocation BEM. The reproducing polynomial particle (RPP) shape functions used in RPBPM have compact support and are not periodic. Thus it is not ideal to use these RPP shape functions as approximation functions along the boundary of a circular domain. In order to get periodic approximation functions, we consider the limit of the RPP shape function as its support is getting infinitely large. We show that the basic approximation function obtained by the limit of the RPP shape function yields accurate solutions of Helmholtz problems on circular, or annular domains as well as on the infinite domains.