09.04.2019 | Chemical routes to materials | Ausgabe 13/2019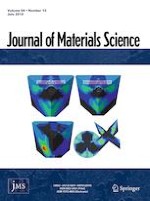 Mesoporous amorphous TiO2 shell-coated ZIF-8 as an efficient and recyclable catalyst for transesterification to synthesize diphenyl carbonate
Zeitschrift:
Autoren:

Bingying Jia, Ping Cao, Hua Zhang, Gongying Wang
Wichtige Hinweise
Electronic supplementary material
Publisher's Note
Springer Nature remains neutral with regard to jurisdictional claims in published maps and institutional affiliations.
Abstract
The catalysts containing tetra-coordinated titanium have been widely used for transesterification. The key issue in the design of these catalysts is the stability of tetra-coordinated titanium. In this study, mesoporous amorphous titanium oxides coated on a zeolitic imidazolate framework (ZIF-8) were developed by using a hexadecylamine (HDA) surfactant as a structure-directing agent. The mesopores surface areas of the amorphous TiO2 shell could be simply controlled by changing the dosage of HDA in the synthetic process. The novel, efficient and recyclable heterogeneous catalyst was introduced to the synthesis of diphenyl carbonate from dimethyl carbonate and phenyl acetate for the first time. The catalyst structure was characterized by X-ray diffraction, scanning electron microscopy, transmission electron microscopy, nitrogen adsorption–desorption, Fourier transform infrared spectroscopy and thermogravimetric analysis. The effects of the molar ratio of Ti to Zn, HDA amount, catalyst amount, reaction time and reusability on the yield of the transesterification products were also determined. The results showed that the mesopores of TiO2 shell facilitated reactants and productions diffusion to increase the conversion of phenyl acetate and yield of diphenyl carbonate. Moreover, the coordination between titanium and ZIF-8 also endowed the catalysts with reasonable reusability.