01.09.2018 | Research Paper | Ausgabe 9/2018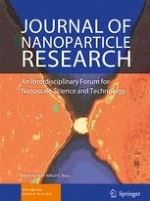 Mesoporous carbon nanofiber network derived from agarose for supercapacitor electrode
Zeitschrift:
Autoren:

Zhiyi Zhang, Yanhao Yu, Chunhua Yao, Zhaodong Li, Guoquan Suo, Junwei Wu, Xudong Wang, Mingjia Zhi, Zhanglian Hong
Wichtige Hinweise
Electronic supplementary material
Abstract
Great efforts have been devoted on searching for sustainable and earth-abundant precursors to prepare activated carbon suitable for supercapacitor electrode applications. In this paper, we demonstrated the preparation of mesoporous carbon nanofiber network (~ 10 nm in diameter of the nanofibers) from agarose precursors. With the aid of zinc acetate, the nanofiber network structure existing in natural agarose gel can be well retained after the carbonization process and the yielded mesoporous carbon nanofiber networks have high surface area and large pore volume without further activation. Supercapacitor electrodes were made from such mesoporous carbon nanofiber networks and specific capacitance of 157 F g−1 can be achieved with the optimized zinc acetate concentration and carbonization temperature.