05.04.2019 | Chemical routes to materials | Ausgabe 13/2019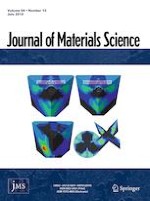 Mesoporous electronegative nanocomposites of SBA-15 with CaO–CeO2 for polycarbonate depolymerization
Zeitschrift:
Autoren:

Yuchen Yang, Chengyang Wang, Fusheng Liu, Xinixn Sun, Guohui Qin, Yuting Liu, Jun Gao
Wichtige Hinweise
Electronic supplementary material
Publisher's Note
Springer Nature remains neutral with regard to jurisdictional claims in published maps and institutional affiliations.
Abstract
The depolymerization of polycarbonate (PC) into bisphenol A (BPA) is performed by defective
x
CaO/Ce-SBA-15 nanocomposite assisted by plasma treatment. For such composite catalyst, CaO and CeO
2
particles are finely encapsulated into the tubular SBA-15 without leaching or aggregation occurring. Abundant oxygen vacancies are generated from the doping of Ca and Ce atoms into the lattice of SBA-15 composite via the plasma surface engineering, entrusting strong basic sites to such mesoporous composite. The interface interaction between Ca and Ce with defective dimensional support materials predominated to generate maximum basic sites is of critical importance in tailoring the BPA yield. CaO/Ce-SBA-15 with rich oxygen vacancies and rough surface creates rich basic sites to achieve the high efficiency of PC alcoholysis and durable repeated cycles. Meanwhile, the synergistic catalysis between CaO and CeO
2
is achieved, while SBA-15 with smaller disordered pores and fine connectivity between adjacent large pore channels enables a good dispersity of such
x
CaO/Ce-SBA-15 composite and finely prevents the leaching of Ca and Ce particles. Additionally, the high-density defects from the substitution of Ce by Ca and Si atoms as well as the plasma treatment play active basic sites during PC adsorption and activation. Such graft also leads SBA-15 itself becoming a solid base. Hence, the superior of PC depolymerization and superior durability are obtained due to the composition synergistic effects and rich abundant basic sites. It is noted that the abundant Ca on ceria surface provides affluent electrons, which makes decreased Ce valence in CeO
2
subsurface and elevation of basic sites. This work explores the generation of tunable basic sites for SBA-15 and is instructive for fabricating desirable multicomponent catalysts composed of bifunctional non-novel catalyst for heterogeneous catalysis with rich surface oxygen vacancies.