18.10.2019 | Chemical routes to materials | Ausgabe 5/2020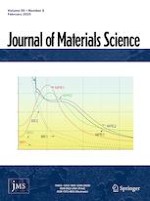 Mesoporous TiO2 from poly(
N

,

N

-dimethylacrylamide)-

b

-polystyrene block copolymers for long-term acetaldehyde photodegradation
Zeitschrift:
Autoren:

Jonas Billet, Stef Vandewalle, Mieke Meire, Natan Blommaerts, Petra Lommens, Sammy W. Verbruggen, Klaartje De Buysser, Filip Du Prez, Isabel Van Driessche
Wichtige Hinweise
Electronic supplementary material
Publisher's Note
Springer Nature remains neutral with regard to jurisdictional claims in published maps and institutional affiliations.
Abstract
Although already some mesoporous (2–50 nm) sol–gel TiO
2
synthesis strategies exist, no pore size control beyond the 12 nm range is possible without using specialized organic structure-directing agents synthetized via controlled anionic/radical polymerizations. Here, we present the use of reversible addition–fragmentation chain transfer (RAFT) polymerization as a straightforward and industrial applicable alternative to the existing controlled polymerization methods for structure-directing agent synthesis. Poly(
N
,
N
-dimethylacrylamide)-
block
-polystyrene (PDMA-
b
-PS) block copolymer, synthesized via RAFT, was chosen as structure-directing agent for the formation of the mesoporous TiO
2
. Crack-free thin layers TiO
2
with tunable pores from 8 to 45 nm could be acquired. For the first time, in a detailed and systematic approach, the influence of the block size and dispersity of the block copolymer is experimentally screened for their influence on the final meso-TiO
2
layers. As expected, the mesoporous TiO
2
pore sizes showed a clear correlation to the polystyrene block size and the dispersity of the PDMA-
b
-PS block copolymer. Surprisingly, the dispersity of the polymer was shown not to be affecting the standard deviation of the pores. As a consequence, RAFT could be seen as a viable alternative to the aforementioned controlled polymerization reactions for the synthesis of structure-directing agents enabling the formation of mesoporous pore size-controlled TiO
2
. To examine the photocatalytic activity of the mesoporous TiO
2
thin layers, the degradation of acetaldehyde, a known indoor pollutant, was studied. Even after 3 years of aging, the TiO
2
thin layer retained most of its activity.