2018 | OriginalPaper | Buchkapitel
Metaeconomic Approaches in Global Management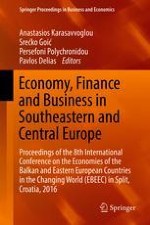 Erstes Kapitel lesen
Autor: Antanas Buracas
Abstract
The metaeconomic approaches in management (MEM) are directly interconnected with modern multiple criteria assessment techniques and important for managing the sustainable socioeconomic development, evaluating the competitiveness risk and sophisticated neuromethods in finance investing etc. In particular, new MEM approaches to global talent competitivity permit to apply them productively as criteria for distributing investments in knowledge and competencies with account of synergetic motivation. For this purposes the taxonomical structurization of the MEM was reviewed. The
social criteria
and tasks may be arranged
with account of changing normative (or minimax) functions
detailing admitted
hierarchies of preferences
at various periods of development. Some specific MEM concepts, including utility functions and multicriteria scoring, are widely applied by the WEF, INSEAD and/or international assessments of global competitiveness, global innovations, IT, and global talents and/or indices, also in financial analytics.
The taxonomic ranking of priorities in the multipurpose economic imitation of social preferences presupposes the
weighed comparability
of criteria functions on the qualitatively different levels—determining the alternatives of optimization, also multicriteria dynamic equilibrium, and the preferable managerial strategies. The stochastic network modelling of universal socioecological sustainability for country's economic development by matching development interests, disposable resources' allocation, and/or characteristics of complex adaptive systems can be recommended as a productive approach to intellectual management practice. The MEM becomes esp. significant when formulating the activities'
aim hierarchies
or choosing
the optimization criteria
, the
restrictions
, and
taxonomy
of
sustainable development
preferences.