Erschienen in: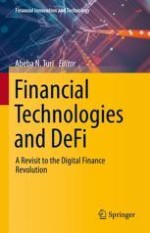 2023 | OriginalPaper | Buchkapitel
1. Metaverse—The Immersive 3D Virtual World's Innovation Diffusion in the Financial Sector
Abstract
The chapter portrays possible traditional finance landings in the metaverse and emerging financial technology constructs of the 3D virtual space. It further provides insights on how financial institutions can benefit from the emerging wave of the 3D Internet beyond the hype. The financial component of the metaverse is one of the vital developments we will observe in the years to come as the applications and business cases that run on it emerge. In connection with this, the chapter presents a detailed analysis of the opportunities and challenges of metaverse banking by closely examining the 3D virtual economic system and its focal constructs. The potential for Defi protocols and fintech companies is immense to facilitate financial interactions in metaverse platforms. Yet, not to be left behind in our evolving digital world, there is a potential for legacy financial institutions to leverage metaverse in creating value through a thoughtful virtual presence. Yet, this will take time, and a detailed examination of the financial application areas is vital before any at-scale enterprise adoption where most metaverse platforms are sparsely populated.