01.09.2015 | Original Article | Ausgabe 6/2015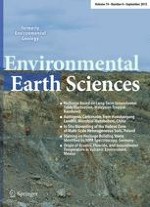 Methane uptake in tropical soybean–wheat agroecosystem under different fertilizer regimes
Zeitschrift:
Autoren:

Santosh Mohanty, Bharati Kollah, Ranjeet S Chaudhary, Amar B Singh, Muneshwar Singh
Abstract
Methane (CH
4
) consumption in the rhizosphere of soybean and wheat was evaluated under different fertilizer management practice in a tropical vertisol. The soybean (
Glycine max
L.) and wheat (
Triticum aestivum
L.) were grown with inorganic, organic, and both (integrated) fertilizer regimes. Cattle dung manure (CDM), poultry manure (PM) and vermicompost (VC) were used as organic fertilizers. Apparent rate constant (
k
) of CH
4
consumption (CH
4
consumed g
−1
soil d
−1
) and other soil parameters including pH, EC, bulk density (BD), organic C (OC), available N (AN), mean weight diameter (MWD) of soil aggregates, and water-soluble aggregates (WSA) were estimated. Parameters like crop biomass, and grain yield were estimated after harvesting of the crops. Abundance of methanotrophs, heterotrophs and ammonia oxidizers were estimated after the end of CH
4
consumption. CH
4
consumption was analyzed under 60 and 100 % moisture-holding capacity (MHC). CH
4
consumption rate
k
varied from 0.34 to 0.58 in wheat and 0.08–0.59 in soybean. Rate
k
was in the order of organic > integrated > inorganic irrespective of the crop. Half-life
t
1/2
(in day) of CH
4
varied from 1.19 to 1.74 in wheat and 1.53–2.82 in the soybean. One-way analysis of variance (ANOVA) and Pearson's correlation revealed significant relation (
p
< 0.0001) among the variables. The regression model fitted
k
linearly (
p
< 0.05) with the variables. Principal component analysis (PCA) explained 76.06 and 18.17 % of variation by the first two components. Result highlighted that organic farming can significantly decrease global atmospheric CH
4
budget in addition to improving soil physical and biological properties.