2006 | OriginalPaper | Buchkapitel
Mexican Fossil Mammals, Who, Where and When?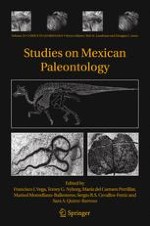 Erstes Kapitel lesen
Autoren: Marisol Montellano-Ballesteros, Eduardo Jimenez-Hidalgo
Verlag: Springer Netherlands
Although the earliest report of a fossil mammal from Mexico dates from 1799, our knowledge of the group is still poor. The Mexican mammalian fossil record is biased towards the large-sized taxa and younger ages.The mammalian record in Mexico ranges from the Jurassic to the Quaternary. Most of the Cenozoic epochs, except for the Paleocene, have mammal bearing deposits. There are exists gaps, such as late Eocene early Oligocene, early Miocene, and early-late Miocene, where no fossils have been found. The Mesozoic mammalian record is poorly represented by three localities in the northern part of Mexico. The early Tertiary is also represented by only a few localities widespread throughout Mexico. The late Tertiary (late Miocene-early Pliocene) is represented from well documented exposures in the central part of Mexico. Although the Quaternary record is very abundant and is present in all the states of Mexico, there are problems with detailed dating of these localities and little is known about small size mammals.Due to its geological history and geographic position, Mexico bears a great diversity of environmental conditions, which is reflected in its high extant mammal biodiversity. Mexico played an important role in the evolution of several mammal groups during the Cenozoic. During the late Mesozoic and early Cenozoic, Mexico was the southernmost landmass of North America, where several mammal groups evolved, adapting to more tropical conditions. Later, during the Great American Faunal Interchange, Mexico was the path for the South American mammal immigrants to northern lands and it was the region where some immigrants remained. The role that Mexico played during the Ice Ages, whether if it was a refuge for northern forms or not has been questioned.Additional work is needed in order to have a more comprehensive understanding of Mexican paleomammals.