20.04.2018 | Original Paper | Ausgabe 15-17/2018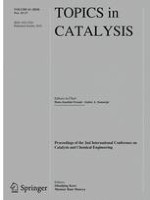 Mg(OH)2 Films Prepared by Ink-Jet Printing and Their Photocatalytic Activity in CO2 Reduction and H2O Conversion
Zeitschrift:
Autoren:

E. Luévano-Hipólito, Leticia M. Torres Martínez
Wichtige Hinweise
Electronic supplementary material
Abstract
Mg(OH)2 films on Al substrates were fabricated by ink-jet printing, and they were applied as photocatalysts in solar fuels production (H2 and CH3OH) from CO2 and H2O conversion. The films were fabricated by means of a deposition of a solution composed of magnesium complex nanoparticles over aluminum foils, which were submitted to a heat treatment to promote the crystallization of Mg(OH)2. The films were characterized by razing incidence X-ray diffraction (GZXD), Fourier-transform infrared spectroscopy (FTIR), Scanning electronic microscopy, X-ray photoelectron spectroscopy (XPS), and N2 physisorption by BET method. The Mg(OH)2 was detected in all the samples synthesized with 1 to 40 layers. According to XPS and FTIR analysis, it was detected the presence of carbonates related to Mg3O(CO3)2 and Al0 and Al3+ due to the substrate. The highest photocatalytic activity was reached using 30 layers of Mg(OH)2 for H2 and CH3OH generation, which it was 268 and 15 µmol g− 1h− 1, respectively. These results were associated to the presence of adequate amounts of MgO and Al2O3 that promote an efficient transfer of the photogenerated electrons between them. Furthermore, the formation of porous structures with high surface area and relative high roughness promoted an increase in the mass transport between the gas and liquid phase, which increase the effectiveness of the photocatalysts.