2011 | OriginalPaper | Buchkapitel
Micellar and Solvent Effects on Electrochemical Behaviour of Antioxidants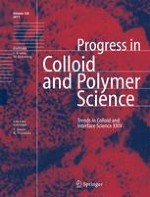 Erstes Kapitel lesen
Autoren: J. Narkiewicz-Michalek, M. Szymula, C. Bravo-Díaz
Verlag: Springer Berlin Heidelberg
Jetzt einloggen
Abstract
We have carried out an electrochemical study of a number of relevant hydrophilic and hydrophobic antioxidants in the micellar sodium dodecyl sulphate, (SDS), solutions to determine the effects of solvent polarity, acidity and SDS concentration on their diffusion coefficients. Cyclic voltammograms show that both peak currents, i
p
, and peak potentials,
E
p
, are affected by SDS concentration reaching a plateau region where with the further increase in the surfactant concentration
i
p
and
E
p
remain unchanged which indicates the existence of the saturated surfactant adsorption layer on the GC electrode surface. For the hydrophilic antioxidants: ascorbic acid and propyl gallate the diffusion coefficients vary only by a factor of ~0.8-2.0 in the presence of SDS micelles related to their values in the buffer solution due to the fact that they did not associate with the anionic micelles. For their hydrophobic derivatives the diffusion coefficients in the SDS micellar aqueous solution are very low compared to their values in the mixed aqueous-organic solvents. It suggests that in the mixed solvents antioxidant molecules are in a singly dispersed state whereas in the aqueous SDS solution they are strongly incorporated into the micelles.